More about teamwork, because we can't stress it enough
Last month's blog, giving a nod to March Madness & NCAA basketball, was about teamwork and how important it is for every team to seek success with common goals while working in unison. This month, we're going to share some real-time Copycat examples of what teamwork means to us and why it's so important.
These examples are all about adaptation – learning to adapt to any situation.
Scenario # 1 – When Kelly joined our team in late February, few among us had much association with members of the deaf population. Those of us with all our senses take so much for granted. Try for a moment to imagine going through life not being able to hear . . . kinda tough, huh? Lack of hearing doesn't make an individual inferior; it makes them worker harder to succeed. Kelly, as a graphic designer, has been terrifically successful in her career. Kelly is deaf.
Since no one on the team had considerable exposure to the deaf population (the exception was yours truly whose brother is deaf), there was a communication learning curve. The team had to slow down and be more deliberate in their information sharing. They all had to adapt. As well, Kelly had to adapt to our processes and procedures because she had never worked in a print shop before.
To aid in our collective learning, guest presenters from NC DHHS presented to us during one of our meetings on the deaf culture and best practices for communicating with the deaf. A little over two months later, almost everyone on the team can at least fingerspell and they've learned some key words too. Kelly feels very much a part of the team and is greatly appreciative of everyone's effort to adapt. This is a solid win/win for the Copycat team!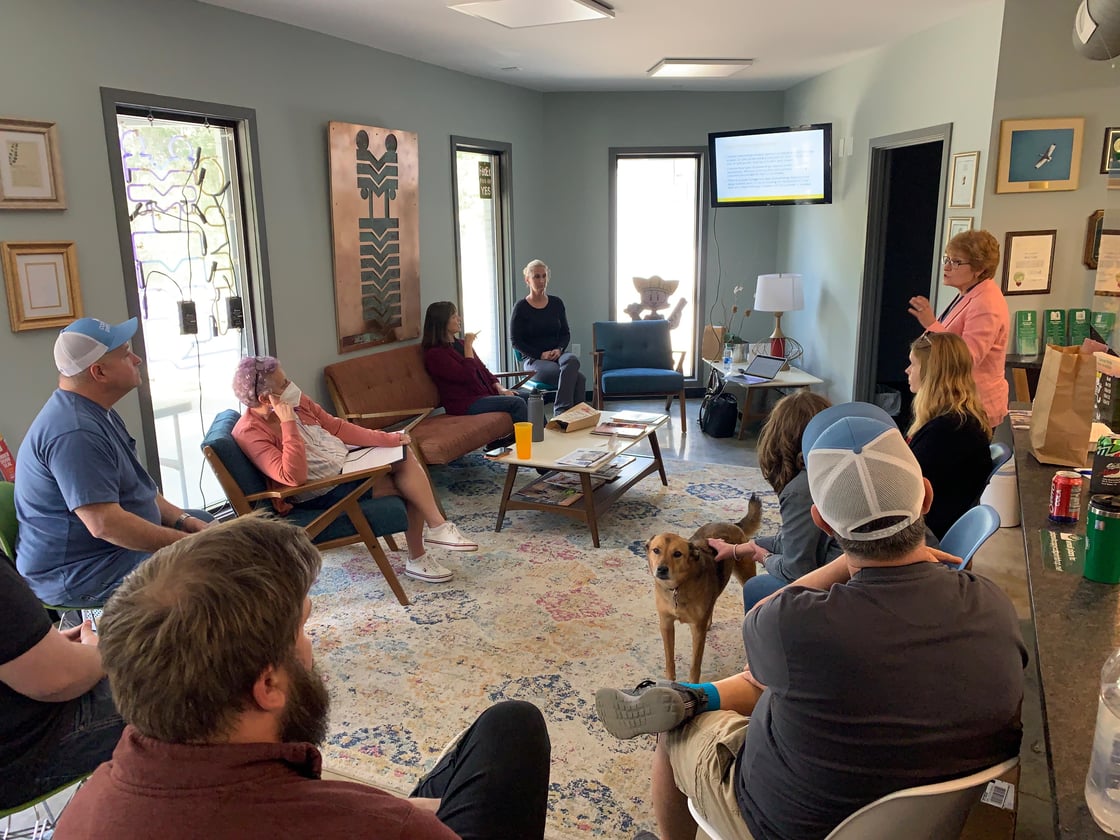 Scenario #2 is even more recent.
Last week, for a variety of compelling reasons, we were missing 40% of the team. Even though we had a skeletal crew, the work orders kept coming in full steam. Not one deadline was missed and not one team member complained about the hugely busy week. Everyone had great attitudes despite a couple of production presses requiring maintenance, which resulted in them being out of service part of the week. Our team adapted and even modified their lunch hours (by 50%) to get the job done. Once again, adaptation, done willingly and cheerfully. They all did what needed to be done to get your orders processed and completed. [Did I mention they did not miss one deadline?]
Most important is the self-pride everyone felt at the end of the week, knowing how well they had done as a team under adverse conditions. The numbers from last week (for the past month!) certainly support their diligent efforts and adaptation.
Folks, this is the kind of stuff that would make any team captain extremely proud. I can't tell my peeps enough what a great job they're all doing, individually and collectively. As Good to Great author Jim Collins says, we have the right butts in the right seats and things are really clicking. When we're clicking, you can see it. Your orders are prepared ahead of schedule, according to your specifications (if you request one thing but wanted another, that's a different matter – we're not very good mind readers).