There is no WE in Equipment
One of the greatest legacies about Copycat is that we have always maintained a cutting-edge approach to using cutting edge technology. That's great. Being equipped with state-of-the-art printing devices has certainly set us apart from most of our competition over the past 50+ years.
But here's the thing: cool technology doesn't run itself. It can't. At least not in our industry. Actual humans (our employees . . . our team members) are responsible for understanding and being able to adeptly use the software used for creating files that can be printed error-free; for selecting, ordering & running the correct media, along with programming the printers to run efficiently; for using the finishing equipment to cut or fold or bind. Oh, and interacting not only with our clientele but internally as well. All of this to say, our soft tissue is exponentially more important than anything else we've got going
Over the years, we've had some stellar team members who have gone on to other occupations. Let's face it – printing is not for everyone. And that's ok. We're rather picky about who we invite to be a part of our group these days. If you're just looking for a job and don't really care about being of service, producing the best quality possible and putting your best foot forward day in and day out, you're probably not a good fit for our environment.
In this newsletter over the past couple of months, we've given you the opportunity to know each of our team members a little bit better. What a great group of talented individuals we have working here! Everyone blends their unique personalities and skill sets together to provide our clientele with the best product possible, oftentimes at what feels like warp speed. It sounds exciting, doesn't it? Printing is a mysterious and complex process, isn't it?
Um, no it's not. In fact, the work we do can be downright boring. Take the photo of Bernie, for example. He's padding. That means he's brushing glue on sheets of paper. Where's the snooze button?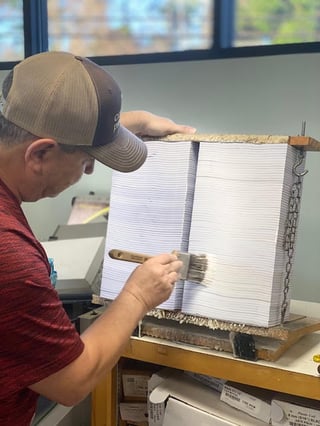 Is printing really exciting . . . or not . . . ?
The fact is, we do a LOT of repetitive work here. It's nowhere near as glamorous as y'all might think. While we have exciting projects come through on a regular basis for which we operate our state-of-the-art equipment, the fact remains that much of the work we do day in/day out is rather mundane. And important! That's right. It's actually very important. When our team works together for the good of the company, most especially for the good of our client base (that's you), we have to blend in the boring chores with the fun projects.
What's cooking got to do with it?
Akin to line cooks dicing pounds of onions and celery stalks for culinary feasts, our team is proficient at doing boring, repetitive chores. Our team is also proficient at operating the fancy equipment we use to complete your orders. Our amazing Copycat team does what needs to be done, even if it's repetitive. We do it all for you because you are worth the extra effort.